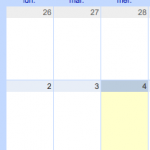 A new Calendar has been setup on /tmp/lab website in order to coordinate our events.
Notably you will find the weekly open meeting where everybody is free to join us, the Hacker Space Fest dates (26 to 30 of June 2009) and the yearly AG for next week.
Make sure to add this in your Calendar manager.