Plastic Hacker Space Festival 2010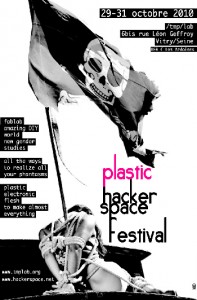 29-31 Octobre 2010

/tmp/lab

6Bis rue Leon Geffroy

94400 Vitry sur Seine

http://www.tmplab.org/contact/

Usinette, Fablab, RepRap, transidentités et transpalettes : l'univers du D.I.Y croise, pour cette nouvelle édition trans-disciplinaire, les univers variés de l'autogestion, de la post-pornographie et des séxualités plurielles, des questions de genre, de l'architecture, de l'environnement,…, et sème le trouble au cœur de nos habitudes en reposant la question de nos désirs.
Plastique, électronique et chair pour fabriquer presque tout : enfin tous les moyens de réaliser ses envies et de construire un monde à son image.
Il n'est plus question de se demander "de quoi demain sera fait?" mais "comment veut-on faire demain?".

Appel à projet :

– Changer notre façon de consommer et fabriquer soi-même ses objets :
* Réaliser enfin des objets utiles et fiables.
* Réparer tout, réparer partout.
* Ajouter des fonctionalités à votre service à raclette.
* Automatiser sa vie : fabriquer des robots et des automates comme on
écrit un script Perl ou Python.
* Moteur de recherche dans la vraie vie avec des puces RFID à la maison.

– Repenser notre façon de vivre pour les 90 prochaines années :
* Les vacances 2.0 : où comment ne plus retourner au boulot.
* Retrouver le pays de Cocagne et son jardin secret.
* Humanisme, néo-humanisme, transhumanisme…hackerisme ?
* Pommunautés autogérée et nouvelles structures sociales
* Pédagogie alternative
* Blog : auto-documentez comme vous respirez !
* Recherche et développement, veille technologique pour tous : nous sommes les inventeurs et pouvons aussi être les héros !
* Embrasser l'inconnu, aller où nul homme n'a encore jamais été.
* Aventuriers : aller de plus en plus loin : le fond des océans, les forêts inexplorées, l' espace.
* Auto-fiction : votre vie produit tranquillement des formes, des
couleurs, des sons, des idées et des concepts.

– Hack yourself:
* Féminisme, "masculinisme", "transgenrisme", … : jouez-vous des -ismes!
* Fantasmes open-sources.
* Fantaisies Cybernétiques : prothèses, pluggs, transformations,
j'aimerais tellement avoir huit bras !
* Prothèses sur mesure, accessibles et open-sources.
* Amplifier son corps : Oscar Goldman disait dans les années 70 : «we
have the technology». Aujourd'hui, la cybernétique nous a -t-elle fait
plus fort et plus rapide ?
* Crypto-anarchisme et identité.
* La technologie comme une interface sensible et sensuelle.

– Bio-hack :
* Cuisine : faites vos propres aliments et partager les recettes.
* Pharmacopée open-source.
* Ordinateurs organiques.
* Nanosciences : de la matière grise dans votre shampooing.

– Voyages :
* Dynamiques : «Gens du voyage», roms, trailer park boys, travellers :
stoppés ? plus envie de repartir ?
* A pied, en tandem, en moteur à l'huile, en volant, à cheval : mon
véhicule ne me coûte presque rien.

– Environnement :
* Jardiner partout.
* S'approprier les "non-lieux" et les zones urbaines hideuses.
* Architecture durable, auto-construction, troglodysme, squat.
* Cure de désintox pour les barres, les tours et les centres commerciaux.

– Energie :
* Efficacité : «mon électricité est générée par un hamster !»
* Energies alternatives : Comment extraire le plutonium des pommes de pin !
* Stockage : inventez le doggy-bag électrique.
* Ascétisme : de l'utilité des bougies en dehors des anniversaires et des dîners en amoureux.

L'objectif du HSF 2010 sera d'explorer ces savoirs et ces mondes connus ou méconnus.

Type de propositions :

1. Conférence (45mn de présentation + 10mn pour les questions)

2. Atelier/démonstration (de 2h à 2 jours)

3. Installation/performance (musicale, plastique, sonore…)

Des lightning talks pouront être organisés au dernier moment, en fonction
du temps et de l'espace disponible.

Informations requises :

– Titre de la proposition
– Type de proposition (voir ci-dessus)
– Nom(s) du/des intervenant(s)
– Affiliation (Organisation, collectif…)
– Langue : français/anglais
– Présentation de la proposition (5 à 10 lignes)
– Sujets/mots-clés
– Une courte biographie
– Connection internet nécessaire OUI/NON

Envoyez-nous vos propositions à
cfp-phsf2010@usinette.org

Date limite : 5 octobre 2010.